I am now selling erotic hand written letters to people. Its legit, I called ebay and they even gave me advice on selling lol.
I pride myself on tactful and tasteful erotic art, so I have no shame.
Here is the listing if you are curious:
Its only 99cents, so please consider! I'm a reliable seller. You have to sign in and show you are an adult to access this.
http://www.ebay.com/itm/230921797424?ssPageName=STRK:MESELX:IT&_trksid=p3984.m1558.l2649
Hello all, its been a while. Money is scarce and I'm using my writing abilities to make some cash (even if its low).
*Please only add me as a friend if we had communication before, otherwise I'm not really interested in adding strangers, I apologize! Please be sure to message me before hand.*
http://www.formspring.me/bitemeubloodyel
Creepy question time!
Name:
Cindy, Theo, Elf girl etc.
Age:
23
Location:
Queens, New York/ usually on my overly soft bed in my bedroom
Relationship Status:
"Taken" in quotation marks.
Major:
Bachelors in Science Psychology/ Associates degree in Theatre and communication (Studying to be a therapist and concentrate on social work/human sexuality/gender. Will also love to get into the film industry.)
Sexual Orientation:
Omnisexual/ Pansexul/ In other words I don't love by gender, but by heart/soul/mind/sexiness level.
Sex/Gender:
90 percent female 10 percent other/fictional :)
Friendly Status:
Extra friendly, to a point that it might be considered inappropriate.
Music:
The xx, The Smashing Pumpkins, Explosions in the sky, The Beatles, Tool, The Postal Service, Tegan and Sara, Metric, Of Montreal, Nine Inch Nails, Portishead, Deftones, Weezer, The Faint, Bush, The Terminal, Dont Die Cindy, Mindless Self Indulgence,The Organ, Regina Spektor, Mogwai, Catpower, Gym Class Heroes, Iron and Wine, Team Sleep, Pink Floyd
(Don't be fooled this is a very short list)
Films:
Fight Club, Requiem for a dream, Brick, The Dreamers, Eternal Sunshine of Spotless Mind, SLC Punk, Yu Tu Mama Tambien, The Virgin Suicides, Rules of Attraction, American History X, American Beauty, My Summer Of Love, Donnie Darko, Story Telling, The Shining, Interview with the Vampire, The Chumscrubber, Mysterious Skin, Hard Candy, Little Children, Bully, Thumbsucker, Mean Creek, Four Eyed Monsters, Garden State, Kids, Little Miss Sunshine, Ghost World, Short bus, Pulp Fiction, One flew over the cuckoos nest, Stay, The dangerous lives of alter boys, Kinsey, Cruel Intentions, Little Monsters, The Wonder boys, Contact, Little Nemo: Adventures in Slumberland, Angels in America, A Bronx Tale, Freddy Got Fingered, Lie With Me, Amelie, The Itty Bitty Titty Committee, La Vie en Rose, Spider Lilies, Water Lilies,
Television:
Skins, LOST, Seinfeld, Friends, The L word, Sex in the city, In Treatment, We Need Girlfriends,
Books:
Anything that is fiction/magical realism/surrealism. Kafka On the Shore by Haruki Murakami, The Wind up Chronicle by Haruki Murakami, Mother Night by Vonnegut, Hamlet by Shakespeare, The Catcher in the Rye by JD Salinger, Interview with the vampire by Anne Rice,Beasts by Joyce Carol Oats, Goosebumps series RL Stine, Where the wild things are by Sendak, Berenstain Bears, The Clown Arounds, Notes from the underground, Blindness
Interests:
Fairies, elves, surrealistic fiction novels, foreign and independent films, foodz, indie rock, Buddhism, nude photography, staring at birls, sunshowers, cherry blossom trees, water, talkative people, weird stuff, french actresses, the sky, unpretentious film makers/photographers, acting, dance
Hates:
Unclean people, arrogance, boring personalities, stereotypical, subways, people who blast their bad music in cars, Tegan and Sara copy cats, textbooks, porn, augmentative people, people who say "nice guys finish last", NYU, really bad blockbuster movies, people who claim to be photographers but just take snap shots of random things and over edit it, people who are sexually active and do not get tested or practice safer sex.
Physical Appearance:
Tiny, short, redhead, really pale</b>
Looking for:
Friendly, weird, wacky, humorous people (cute/adorable is a bonus)
And finally, a picture: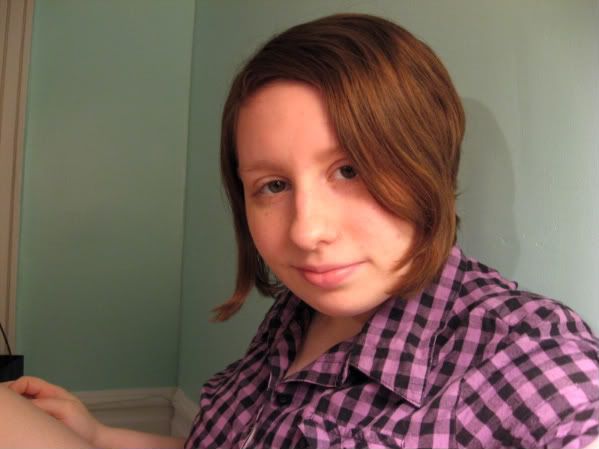 Ello!
I've been getting pretty lucky recently when it comes to livejournal and finding new cool people (and crushing on new people ;)), so I decided NOT to just leave because that seems a bit immature. Also, the birls community kind of...makes me feel restrained in a way. There's all these attractive people posting, but sometimes I cannot relate to the things they are saying and seem to have the opposite view of things. Plus having internet crushes via livejournal, isn't healthy I guess haha.
I just wont put anything personal public anymore. If you came across my journal and would like to get to know me,
you can comment this entry/ IM me.
I would also appreciate anyone who is my "friend" on here to comment my protected entries to let me know that you are viewing them, but if not I'll be deleting some people.
I'm also getting out of some hiatus. During that time, I was very bad to myself and was very negative. Its time to regain myself and start thinking positive and not thinking I'm stuck being such a bad person in an on going cycle (of people who seem to not be able to care enough). This cycle, shouldn't be blamed on my inner self/personality. No one should ever tell you anything otherwise. Standards are there for a reason, and I intend on keeping them. My advice for anyone in similar situations: It shouldn't be HARD to like/love someone.
I also met someone new, and shes giving me a new prospective to everything. I honestly never met someone who was so responsive and understanding of such issues.
I'll be back to my old self in no time.
I'm digging this whole structured paragraph thing for writing in my entries. I was tempted to number them, but I resisted.
I sort of went picture crazy.
(
Some awesome pictures of various locations of NYC to add to your entertainment :P
Collapse
)
So yea, the title says it all.

wants to get out
but I'm too tough for him,
I say, stay in there, I'm not going
to let anybody see
you.
there's a bluebird in my heart that
wants to get out
but I pour whiskey on him and inhale
cigarette smoke
and the whores and the bartenders
and the grocery clerks
never know that
he's
in there.

there's a bluebird in my heart that
wants to get out
but I'm too tough for him,
I say,
stay down, do you want to mess
me up?
you want to screw up the
works?
you want to blow my book sales in
Europe?
there's a bluebird in my heart that
wants to get out
but I'm too clever, I only let him out
at night sometimes
when everybody's asleep.
I say, I know that you're there,
so don't be
sad.
then I put him back,
but he's singing a little
in there, I haven't quite let him
die
and we sleep together like
that
with our
secret pact
and it's nice enough to
make a man
weep, but I don't
weep, do
you?
there's a bluebird in my heart that
Current Mood:

groggy
I can't even begin to describe my life right now. I think it was like that for a long time.